Frequently Asked Questions
Briaroaks Fire Department
How do I check my smoke alarm?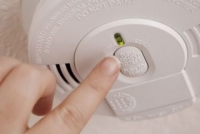 Each smoke alarm has a test button. Press the test button and hold it for a few seconds. If it is working correctly, the alarm will sound and will automatically stop when you release the button. Remember to test your smoke detector monthly and change the batteries at least once a year. If your smoke alarm is over 10 years old, it needs to be replaced with a new unit.
See More Questions...
Interested in joining Briaroaks Fire Department?
We Are Always Accepting Applications For Volunteer Positions!