Briaroaks Fire Department
Protecting Lives and Property In Our Community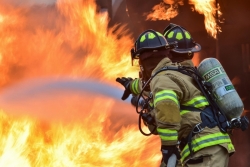 Protecting approximately 10,000 residents, Briaroaks Fire Department provides structural and wild-land firefighting, technical rescue, and medical first responders for the Briaroaks Fire District along with surrounding rural and suburban areas of north central Johnson County, Texas. Our job is to protect lives, property, and the environment against hazards, natural and manmade.
Briaroaks Fire Department strives to provide the most timely and effective response for the citizens in its district. Each day, we receive calls to respond to a variety of emergencies including medical first response, structure fires, hazardous material incidents, vehicle accidents, and much more. Protecting life and property is the top priority for the department, while partnering the community on fire safety and fire prevention.
Our response with surrounding departments through automatic and mutual aid also plays a major role in our service to the citizens of Johnson County, Texas. Our community is a wonderful place to work and live and as a department we hope to continue our strong partnership with its citizens, as we have for since 1971.
Briaroaks Fire Department
Briaroaks Fire District - Johnson County, Texas
Briaroaks Fire Department is a dedicated volunteer organization serving our community through fire suppression and prevention, emergency medical response, and excellent community service. We are dedicated to preserving life and property through prevention and professional, compassionate response. We pride ourselves on being your community fire department in Briaroaks Fire District and the surrounding areas in Johnson County, Texas. We strive to reduce loss of life and property through innovative approaches, technology, informed decisions, high standards, fiscal responsibility, and collaborative relationships.

Interested in joining Briaroaks Fire Department?
We Are Always Accepting Applications For Volunteer Positions!